Emotional Balance, Stress Relief & Inner Strength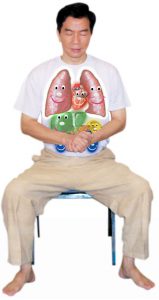 The Inner Smile is a very simple, yet powerful technique which has profound effects on our system. With a smile we make contact easily. We utilize this to get in loving touch with our spine, organs and glands. It is the very basis for any other practice.
The Six Healing Sounds are a deeply effective technique for clearing and relaxing our emotions. By simple movements of the arms and specific sounds we clear and harmonize our emotions. Doing so has a very beneficial effect on our organs as well.
No complicated movements – Practicing on chair is possible
Ailments are no obstacle – No experience whatsoever needed
❤ Just bring an open heart and mind ❤
What? One Day Workshop – 09.30 – 17.30 – 95,- € p.P.
Where? Vinha Velha www.vinhavelha.com near Barão de São João
When? Sun, 11.11. – Sun, 18.11. – Sun, 25.11. – Sun, 2.12. – Sun, 9.12.
For more Information call +351 918 529 555
!!! Registration per phone or email to info@taorist.com is required !!!
!!! No later than two days prior to workshop date !!!